Tesla currently has the largest representation in Model S. This model is the owner of most Tesla customers and they are doing everything possible with it. We could see Model S modified in the form of a limousine and now S model S in the estate version.
Model S is not a very practical car. He has a relatively small luggage space in the European situation, which he does not like in England either. It was here that the S was developed in the version of the estate, which means that it has the highest practicality.
So Qwest has decided to complete the project and has shown us the first pictures of this enlarged car. How do you like it?
The company boasts a novelty on its twitter. It shows us, in particular, the rear of the car, that is, the part with the most changes. Quite differently, the front roof of the car is quite different. The tail lights, however, remained the same as the classic S model. Even a chrome-plated horizontal belt, which is under the car's name, was retained. The lid of the trunk itself is different.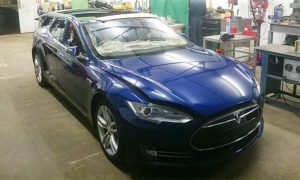 Unfortunately, the creators have not yet documented the interior of the trunk. We do not know exactly how much this part of the car has grown, whether there are some tricks such as luggage holders and other practical things that are missing in the current Model S.
This whole project was created by chance, one visit to the Canadian Bar in 2016. Here was a debate about the practicality of Model S, when the biggest complaints were concentrated mainly on the roof of a car. Its shape does not allow the dog to be transported, which led to the bet which culminated in this adjustment. Experienced engineers who have even experience with Le Mans work on it.
But Qwest is not the only company that makes Tesla more practical. Niels van Roij is also working on this car, and he plans to make the Tesla S combos in bulk and he wants to produce it in twenty specimens under the RemetzCar brand.