Harley-Davidson has undergone a series of serious changes for MY18. The Street Bob based Dyna set was rebuilt and introduced as Softail. The reworked frame has not only received minor cosmetic treatments, but it is a complete reconstruction that is very little like the original. It's still a classic Softail visage, but on a different scale. Street Bob has received new hearts and a host of accessories and modifications.
Design that does not hurt
The old split tank is replaced by a cleaner and smoother piece that does not have a classic design but is a single piece. It has a drip-like shape that resembles a lot, but it was used on 1200 Sportsters.
In the front are fitted mudguards that turn the view of the forks. There is also a classic Cyclops LED with a low profile and a handlebars rising to the heavens. The whole bike is clad in a beautiful black color, and we can hardly find other shades of color except the reflective surfaces and lights.The logo and design of the manufacturer are embossed on the tank.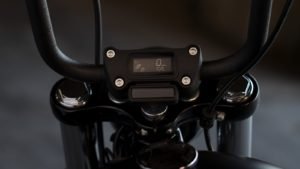 How's the chassis on it?
Even the bones have been redesigned. The factory has put together a skeleton with half the number of parts than the previous generation. The rear suspension is located on the right under the seat and there is a handy feature that lets you manually adjust everything. Beware, however, on the hot rear tube that is in close proximity.
In front there is a new fork that provides a pleasant damping response across the range of motion for a more comfortable ride.
There is performance in line
Look forward to a massive 1746cc performance, featuring a 110pc torque on the wrist for driving pleasure. This powerful engine does not have even too high vibrations that are now smoother than expected. For fans, this may be a disappointment, as they will say that the bike is too quiet and cuddly. However, it is the 21st century and so the times come to change in the form of a comfortable ride.